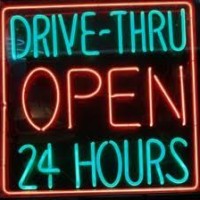 The Plan of God is Like a Fast Food Drive Thru!
By Pastor Steven Pereira | September 3, 2012
Written Wednesday, July 15, 2009 at 8:55am Pastor Steven Pereira
Many get frustrated and quit before entering into the plan of God.
I asked God for an example for the plan of God that people could relate to. Too many preachers, too many times make the plan of God too complicated.
Here's what The Lord said to me…

"The Plan of God is Like The Fast Food Drive-Thru. 90% of all drive-thorough's are unseen from the street. Because it is unseen, does it mean it doesn't exist? Of course not, because the sign on the street tells you it's there. Many times the plan & gifts of God is not immediately made known or manifest. But God was nice enough to have it written down for us in our Bibles = The sign in front of the fast food place that tells you there is a drive through. The drive-thorough's that are visible from the street have a problem. If they are busy and the line is packed you are less likely to pull in. It's the same with the plan of God, if he shows you the whole plan up front you'll run away from it. Then there is the opposite problem, you pull into the drive way and there is a huge conga line in front of you. So, instead of waiting paitently we pull out of the line because we are in a hurry."

The main point: You have to get tired of running from God and submit to his plan

Point 2: Patience is a virtue, fustration is not. With faith and patience we inherit the Promises of God - HEB 6:12

I want to encourage you to stay strong in The Lord for there is strength for today when we stay focused on Him and His Word. Don't let those little negative thoughts take control of you. Get in line at the drive thru and wait paitently fro your turn....a Happy Meal of Joy awaits you! LOL!!!

Love
Pastor Steven
God is available 24/7
Back